(850)832-7653
A/C & Heating Specialists
SERVICING BAY COUNTY AND SURROUNDING AREAS
Trusted Professionals
You need a trusted advisor for your residential and commercial HVAC needs. For that, look no further than the specialists at Nex Generation A/C and Heating LLC.
We've all dealt with those 'other guys' before. You call the number, wait on hold, and they finally tell you it will be days before they are able to come out to see you. Don't get caught in the same old games.  At Nex Generation, we feel that every customer is special and should be treated as such. We offer same day service, free in-home estimates, and reliable, trustworthy expertise for all of your residential and commercial needs.
Get your free estimate today
Estimates for New Systems

Replacement of Old Systems
Your Community is Our Community
We live and work in Bay County, too.  There's something special about the people here.  The friendly faces, the relaxed nature, we love it all.  Don't settle for a company who treats you as a number. You deserve a professional who treats you as family.  Here at Nex Generation, that's exactly what we call our customers – family. 
Long Term Customer Relationships
As we've already mentioned, we want every customer to be family.  We don't want to earn your business one time.  We want to impress you so much that you continue to work with us long into the future. As you grow, we grow. That's how it works. 
Reliable & Fast
Let's be honest – this is Florida and summers get HOT! You don't deserve to be sweating away your life, listening to your broken A/C while the repairman takes his time to get there.  We promise to work quickly and efficiently to get you up and running in no time. 
Certified A/C & Heating Professionals
Our owner, Markus Powell, has been doing this work for more than 8 years, and has his Class B Florida Warm Air license. When it comes to your HVAC needs, rest assured that he has seen it all.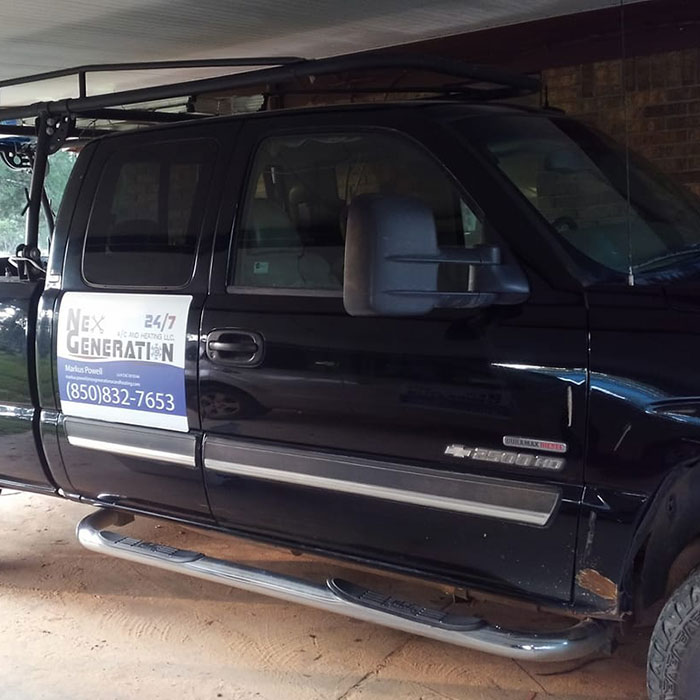 Nex Generation AC and Heating is family owned and operated, and is a locally owned Bay County business. We view the work we do as more than just fixing air conditioners; we think of it as our way of giving back to our community. It's all we know. 
Very professional! Nex Gen came out after the hurricane and checked all my stuff out. Then they gave me some friendly advice on how to keep things running properly. They have great service. Came same day I called. I highly recommend using them for any of your a/c needs.
If you're looking for honesty and professionalism, this is your company. He was extremely knowledgeable and we will definitely use him for all future repairs/services.
Nice to have a very well Qualified AC person here in the panhandle. Keep up the great work! I will continue to send you AC installs as our companies are installing Solar Energy in your area!
I would 100% recommend Markus for all your AC needs. He went above and beyond to find my leak and replace my motor for same day service!!!!